CelebleNon-Alcoholic Sparkling Wine
Non-Alcoholic but tasty
It's made of grape juice fermented in a unique way that doesn't generate any alcohol.
This is because it's an innovative Non-Alcoholic Sparkling Wine that is alcohol free but keeps rich flavor.※0.00% in alcohol content
New Non-Alcoholic Wine that you have never experienced
Tastes just like real wine
Most of No-alcoholic wines are either dealcoholized or made of Non-fermented grapes. However, dealcoholised ones still contain some alcohol and Non-fermented ones are just like soft drinks.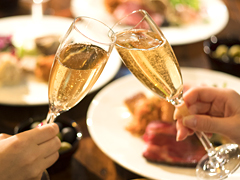 Thoughts on product name
The product name "Celeble" is derived from Celebration.
We hope "Celeble" will be consumed at various anniversaries such as wedding or Christmas parties or even as a reward for yourself.
The label motifs a flower to express the freshness of carbonation, the pleasures surrounding the table, and the glamorousness. Although "Celeble" is non-alcoholic, it's an ideal drink to produce a gorgeous drink scene.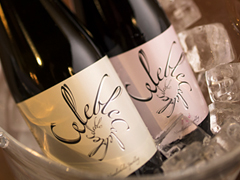 Suitable situations for drinking Celeble
As it's "Non-Alcoholic" Sparkling Wine, we recommend Celeble to:
Those who are about to drive
Those who loves drinking wines but don't accept much alcohol
Those who are pregnant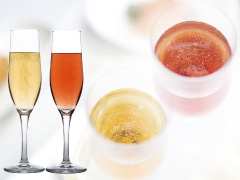 Storage method
Keep away from direct sunlight and high temperatures.
The fruit juice components may settle or the liquid may become darker, but the product quality is unaffected.
The liquid may expand and cause the container to explode, so please do not freeze or warm while still in the bottle.
Chill well, and consume soon after opening.
Product summary
Product name
Celeble Non-alcoholic Sparkling (White)
Celeble Non-alcoholic Sparkling Rosé
Product
Carbonated Drink
Ingredints

Celeble Non-alcoholic Sparkling (White)

Fermented grape juice
Black tea extract
Flavoring

Celeble Non-alcoholic Sparkling Rosé

Fermented grape juice
Cassis extract
Flavoring

Container
Glass Bottle
Volume
355ml
Best when used within
1 year (listed on label)
Product specifications
Single product size
Diameter : 66mm / Height 255mm
Single product weight
760g
Packaging
12 bottles Carbonated
Case size
Length : 295 mm / Width : 225 mm / Height : 265mm
Case weight
10kg
Jan Code

Celeble Non-alcoholic Sparkling (White)
Celeble Non-alcoholic Sparkling Rosé

ITF Code

Celeble Non-alcoholic Sparkling (White)
Celeble Non-alcoholic Sparkling Rosé