OEM/ODM Process
Inquiry, Product Planning & Development
Please inform us of your inquiry on prescription and specification
We will make prescription according to your product concept and targeting market, etc. We welcome the messages like, "a product with this and that materials is under consideration," or "want to make xx ml beauty drink." Please feel free to contact us.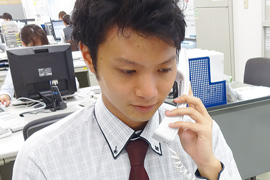 Pre-production Sample at Laboratory
Your request for product plan will become actual shape
We will make pre-production samples based on your needs, finally to meet your request. It will take 1 to 2 weeks from purchasing materials till outputting pre-production samples.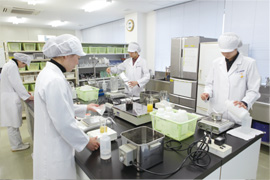 Trial Production Sample (Line Test)
We will verify if the samples fit into mass production or not.
We will manufacture the trial product at mass production line, and verify the commercial reality of the product in terms of; prescription, packing specification and if fitting with the manufacturing process or not.

* The trial production cost consisting of materials, containers, usage fee of mass production line, transportation cost, etc. will be borne by an OEM consigner(The volume of materials to be used and the usage charge of mass production line will depend on the type of production line and manufactured contents).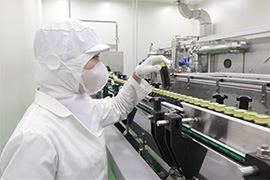 Aging Test, Nutritional Ingredient Check
We will do Aging Test, and define prescription and labeled ingredient.
We have a good track record in procuring many types of ingredient as functional ingredient and fruit juice, etc.. Container and packing materials shall be prepared by OEM consigner as a matter of principle, while we can procure them instead in some cases.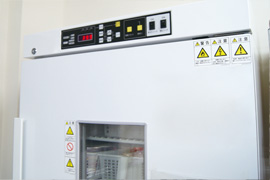 Material Procurement
Ingredients and packing materials will be prepared.
We will check the phenomena possibly to appear over time, and verify the quality assurance for the best-before period of the product.

* Aging test will take 3 months to assure 1 year's best-before period. Additionally we will have nutrient component analysis if necessary, and do container corrosion test for the can containers.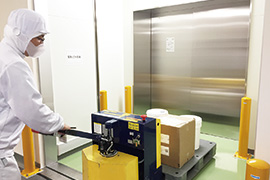 Mass Production till Delivery (Example)
We will manufacture the product under the strict control of production process and quality.
We will have a variety of product inspections at the production line, and deliver the product after the product inspections are cleared. It will take about 1 week for bacteria test's result. The delivery destination of the product will be discussed and agreed on later on.
Measure ingredient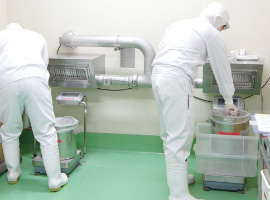 Measurement room

Blending and adjustment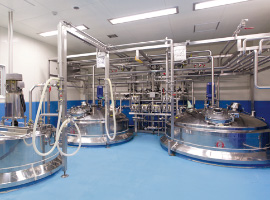 Adjustment tank(with Load cell)

Sterilize blended liquid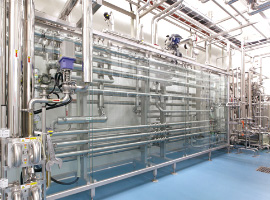 Shell & tube sterilizer

Cleanse container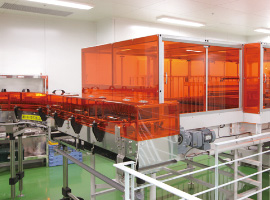 Rinser

Provide container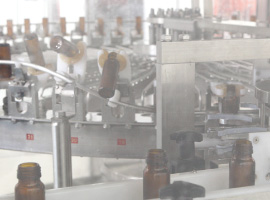 Depalletizer

Fill content and cap
(airtight stopper)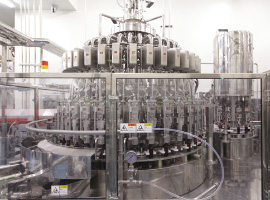 Filler & capper

Post sterilizing and cool down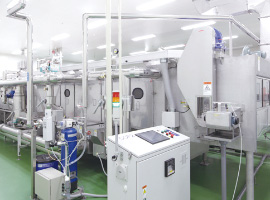 Pastlizer

Remove water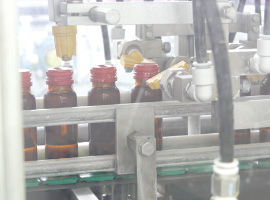 Water removing machine

Process total quantity inspection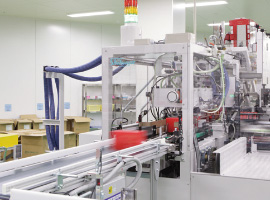 Print inspection machine

Pack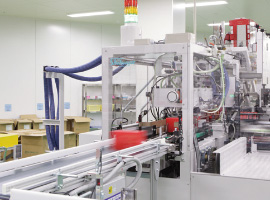 Wrap-around cartoner

Sampling inspection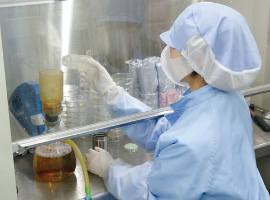 Clean bench

Storage and delivery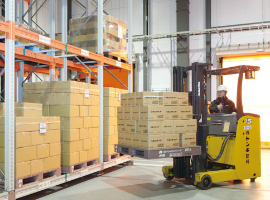 Warehouse with movable rack