Quality Control
We obtained FSSC22000 certification, the global food safety management standard, and the followings are our policy on food security.
Tombow Beverage Company Policy on Food Security and Quality
We make the products entirely satisfactory to customers. We realize the quality better than customers expect, by virtue of our company members' hygiene consciousness, hygiene control skill and affluent information sharing, effective system to assure food security and unique expertise.
Food Security and Reassurance
People concern food security more and more, and the legislatures often set or revise regulations, so that the extensive expertise about ingredient and its labeling are crucial to food industry. Our experts as pharmacist, managerial dietician, nutritional representative meet our customers' needs and answer to questions.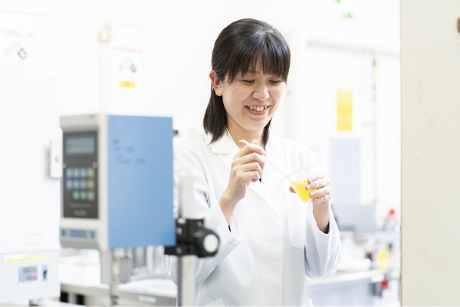 Quality Assurance - 2 Good Points and 4 Tests –
2 Good Points
Good Point on Security
To assure hygiene quality, that is the basis of quality assurance on drinks, we check if microbes don't exist, drinks are not tampered and are suitable for drinking, etc..
Good Point To Be Found When Drinking
We check if we keep promises with customers about the quality from picking up drinks till drinking them, not only on delicious taste and color but also on neat labeling and removing caps easily, etc..
4 Tests
Chemical Analysis Test
Sugar Content(Brix)
Ratio of soluble solid in food(drink)

pH
Number sketchily to show acid taste of food(drink)

Acid Degree
Ratio of acid contained in food(drink)

We test other standards designed beforehand.
Biological Test
Microbe is one of the factors to affect the content of drinks. We test in due cultured period.
Physical Test
Tamper Test
Check if solid not designed beforehand is included or not.

Appearance
Confirm if there is nothing wrong on container and packing

Torque on Removing CAP
Confirm if cap is firm enough to secure content's safety and also easy to remove, by measurement instrument.
Sensory Test
Actually drink the manufactured product, and confirm if there is nothing wrong in taste, flavor and texture, etc..
Test Instrument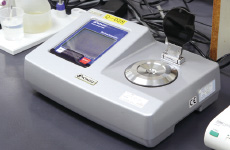 Brix Scale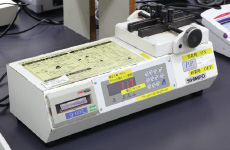 Torque measurement device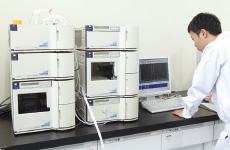 HPLC(High-performance liquid chromatography)
We uninterruptedly monitor the whole manufacturing process as well as control the finished products' quality. We always keep calm eyes on the fact and reality to produce better products and to serve our customers.